The cold weather snap over the weekend was a little confusing (the high in Chicago on Saturday was only 66!) but I actually enjoyed the chance to wear long sleeves and this new tulip skirt from Target. I wore this out to get some barbecue with the boyfriend's parents in the suburbs, which gave me the chance to snap some pics with lots of green in them for once.
This belt was my favorite back in high school and college, I wore it alllllllmost every day (once I got over wearing white belts with star cutouts/studs every day). It's a bit too big for me now, but I'm glad I held onto it because it definitely still works tied like this.
While I prefer warm weather during the summer, a cold snap every once and a while is fine by me!

Linking up: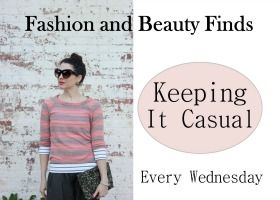 Follow along via
Google Friend Connect
or
Bloglovin
!