I often get comments about how shiny and soft my hair is, but I've got a secret for you - I work hard to get it that way. Don't tell my sister, as I'd like to keep her convinced I just have good genes. Here are five of my secrets to getting really soft and shiny hair.
Leave conditioner in your hair as long as possible. I wash and condition my hair first thing when I get in the shower, and leave the conditioner in until I'm ready to get out. I also use deep conditioner ever two to three times I wash my hair to repair damage from coloring and styling.
After washing and conditioning your hair, rinse your hair in cold water, which helps to seal the cuticle. It isn't always fun (especially in the winter!) but makes a big difference with my hair.
Comb your hair twice when getting out of the shower. I go through first with a wide tooth comb to get the tangles out, and then with a fine tooth comb to smooth everything out. This helps to cut down on flyaways and smooths everything out to make my hair really shiny.
Use the right products when you get out of the shower. I swear by Kerastase's leave in conditioner and Elixer. The conditioner should go in first, throughout all of your hair. For the elixer, squeeze one pump into your hand, then gather your hair in a loose ponytail and spread only from mid-shaft to the ends.
Try to avoid heat styling whenever you can. In the summer, I'll only blowdry my hair if I'm getting really dressed up. In the winter, I dry it on a lower heat just enough so that it doesn't freeze during my walk to work.
Let me know if any of these tips work for you!

Linking up: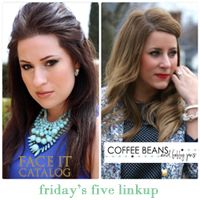 Follow along via
Google Friend Connect
or
Bloglovin
!