A couple of weeks ago I had a couple of really great coupons for the Gap plus a rewards certificate and managed to scoop up this chambray top for basically nothing. I had been wanting a darker wash chambray for fall so I was super excited. Strangely (ironically?) I got these sandals for almost free from Piperlime last summer with another set of coupons & rewards.
And check it out, this skirt allllmost makes it look like I have a booty. You know, almost ;)

Linking up: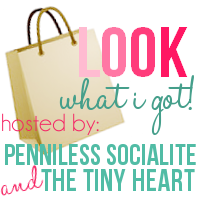 Follow along via
Google Friend Connect
or
Bloglovin
!