And so continuing the pink trend, I broke out my new pink Coach Factory bag for a little dinner date with Jeff and his parents out in Oak Park over the weekend. We went to
Mancini's
, which is actually in the
36 Hours
book Jeff got me a couple of weeks ago. I had an asian salmon salad, and it may have been the best salmon salad I've ever had. Seriously. It was so good, I decided I could handle eating healthy again and hopped back on
Lose It
this week. Last spring I lost 11 pounds using Lose It, but since I added a few back over the holidays it seemed like as good a time as any to get back into the swing of things. Personally, I think it worked for me because I could still eat whatever I wanted, I just had to exercise if I wanted to eat ice cream and if I was going to binge out on snacks they had to be healthy to fit into my calorie plan.
Oh and see my nails? The mani I got this weekend was Essie
"Find Me an Oasis"
and I am loving it, it's a really pretty light blue. I just may have to buy a bottle for myself ;)
Have a very happy almost Friday!

Linking up: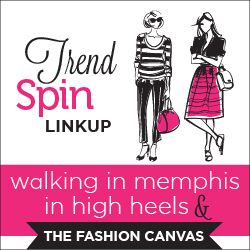 Follow along via
Google Friend Connect
or
Bloglovin
!