I mentioned when I posted about my love of navy that I already had some of the items on my list. Well, I also have been wearing them together, all over town. I think this giraffe sweater is my favorite item in my wardrobe right now, I've been having to restrain myself from wearing it more than once a week. The skirt was my only purchase from the Prabal Gurung line for Target and I love it, the cut is so flirty and fun.
Sweater - Banana Republic (no longer available, sad face) /
Skirt
- Prabal Gurung for Target /
Flats
- Target / Bracelet -
Fancy Frills
This is probably a weird connection, but whenever I think of giraffes I think of an old Sesame Street record we had when I was really little. There was a song called
I Got Me a Rooster
where they sing about different animals and make the animal noises. When they get to giraffe they all have to pause because they can't think of what noise a giraffe makes. It's weird the way certain things stick with you, because I don't think I could name another song I liked at age two.
I'm in the middle of a really busy week, but somehow my weeks are only going to get crazier from here. Not only am I taking a night class, but I also decided to sign up for a personal trainer two nights a week. I think the main goal is to get some upper body strength, which has sadly disappeared since I moved in with Jeff since he now carries heavy things up the stairs for me and I no longer carry my groceries home from the store. Also, my friend and I were talking about signing up for another canoe marathon (in case you missed it since you likely did, I used to compete in canoe marathons.) and I think I would probably die if I tried to do one again without any strength training. Now I'm just hoping that working out with a trainer won't be too scary!

Linking up: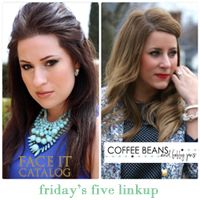 Follow along via
Google Friend Connect
or
Bloglovin
!