I mentioned that last weekend I went with Jeff to his high school reunion. I was a little unsure of what to wear - the reunion was just in a bar downtown so I was a little worried people wouldn't dress up. I forgot to factor in the fact that the girls were all out to impress people they hadn't seen in ten years. People were dressed to the nines. I fit right in.
I last wore
this romper
over the summer and thought it would be fun to dress up a little for cooler weather. The blazer is something I've had for a couple of years but rarely find an occasion to wear, it usually looks a little too much like a waiter's jacket. Somehow with ultra short shorts it works.




Linking up: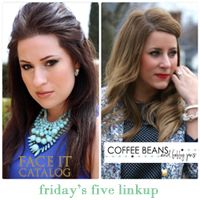 Follow along via Google Friend Connect or Bloglovin!