How do you define a basic? I like to think of them as easy pieces in your wardrobe that can be mixed and matched with anything. A lot of people might think of basics as plain or neutral, but they don't have to be. It's important to have really great basics in your closet because they end up being your workhorses and will last much longer than trendier pieces. I've mentioned before that this gray tee is one of my favorites, but these polka dotted pants have quickly worked their way up to favorite level too. I like that they're a little bit dressy and a little bit casual. I've worn them dressed down with tee shirts and flats as well as dressed up with pretty blouses and heels for work. Yes, they're polka dotted, but I still consider them a basic. Would you consider polka dotted pants to be a basic?
And behold, another score during the great Target binge of September. I've never owned anything camo before because I didn't feel like it was girly enough to fit into my wardrobe. Then I saw these flats that had not only camo, but also sparkle cap toes and bows, and I was sold. It's also partially thanks to these shoes that I decided to go on a shopping ban for October. We'll see how I do ;)

P.S. In case you missed it, we went and picked up
my engagement ring
yesterday! I now can't stop looking at my finger ;)
Linking up: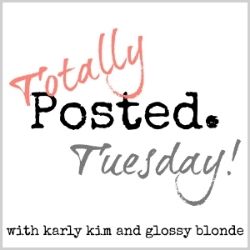 Follow along via
Google Friend Connect
or
Bloglovin
!